Description
Extraordinarily productive and economical to use
No health risk. Use of natural, non-pathogenic microorganisms
Good for the environment. Odor eliminator fully biodegradable
Wide spectrum of activity and reliable odor elimination
Removes odors caused by:
Open fire
Smoldering fire
Cable fire
Oil burn while cooking
Burnt food
Smoke, flue gas
soot, ash
Applicable everywhere in the household, in the kitchen and in the office or work rooms or. workshops.
Burnt smell remover can also be used on sofas, upholstery and even clothing applied.

Remedies against burnt smell
Effectively and easily restore the neutral room odor.
Odor neutralization after fires, fire and burnt food.
Specially developed burnt odor remover which eliminates odors caused by fire, smoldering fire, smoke, soot and burnt food.
Application recommendation
Burnt smell remover is simply sprayed into the air or from about an arm's length on the affected person Surfaces sprayed. It is important that these surfaces are thoroughly cleaned beforehand and that soot is removed. and ashes are freed. Leave the burnt smell remover to take effect and possibly a little Bring air movement (with the windows closed) into the room, this ensures optimal distribution and no odor molecules to skip This process should be repeated sparingly up to twice a day until the room air is neutral again.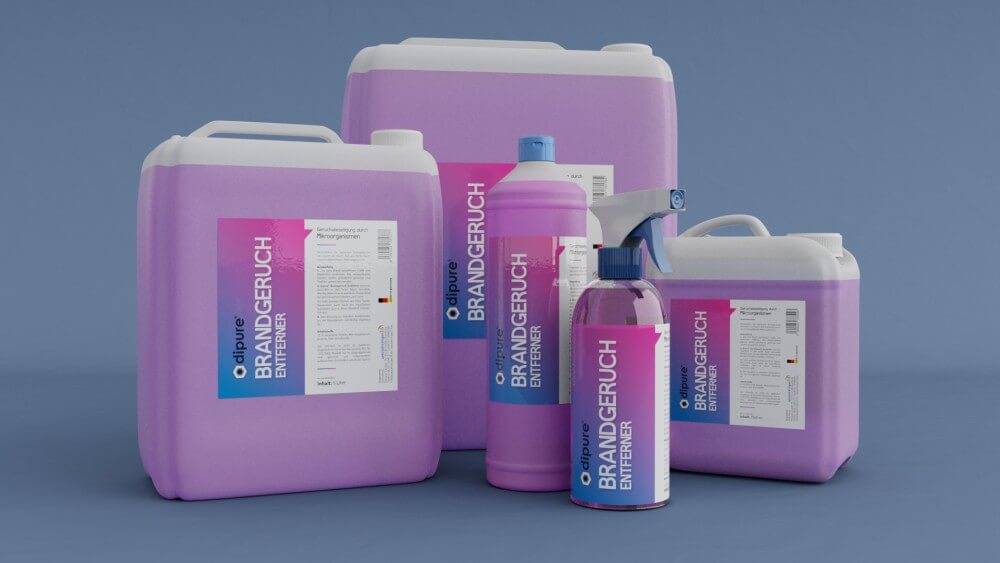 Get rid of the burning smell in the apartment
Burning smells caused, for example, by a burnt pot when cooking, can not only cause a bad mood in the short term, but represent a reduction in the quality of life in the long term. Such fire smells often stay in the apartment for days or even weeks and sometimes even for months later the suspicion that the smell hadn't completely gone.
Remove the smell of fire and smoke from furniture and clothing
The odor eliminator is pH-neutral and contains only natural microorganisms, which do not pose any health risks to humans or pets. Textiles in particular absorb odors water like a sponge - and release it evenly distributed over weeks. Smoky-smelling clothing is not Problem more with this burnt smell remover.
Burnt smell remover should generally be applied to textiles and misted thinly from a distance of approx. 50 cm in order to to achieve the best possible distribution on the textile surface, where the odor molecules often accumulate fix.
Ingredient information according to EC-VO 648/2004: less than 5%: NTA, non-ionic surfactants, fragrance
Use the product safely. Detergents protected from children, only in the original container and separately from store food.
Contains microorganisms. Products with microorganisms must not be combined with strongly acidic, alkaline and disinfecting cleaners are used, as these destroy the effect of enzymes and microorganisms.
Product contains dye. Special care should be taken with light or white surfaces and materials. In principle, this product must be checked for compatibility on a hidden area before use. at improper handling voids any liability for possible damage.
Information on ecology:
The microorganisms used are non-pathogenic bacteria of risk group 1 (classified according to BioStoffV 2000/54/EG, TRBA 466) Risk group 1: No risk for Humans and vertebrates according to the state of the art
EUH208 Can cause allergic reactions. See ingredient list at the bottom of the page.
| | |
| --- | --- |
| Odours: | cigarette / nictoinesmoke and burnt smell |
| area of application: | Raumluft |
| Content: | 0.50 l |
| ingredients: | Fragrances, preservatives (Methylchloroisothiazolinone). Contains 1,2-Benzisothiazol-3(2H)-one; 1,2-Benzisothiazolin-3-one. May cause allergic reactions. |